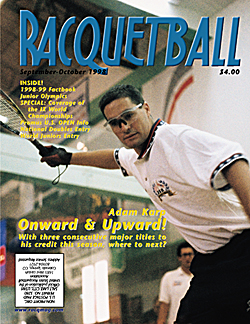 September - October 1998
Volume 9, Number 5
CONTENTS
FEATURES
Go fish! Karp heads Upstream -- by Kevin Vicroy
Ektelon USRA 25th Junior Olympics -- by Kevin Vicroy
Online daily site reports available.
SPECIAL: Ektelon IRF IX World Championships Coverage -- Eight pages of exclusive photos and first-hand reporting from Bolivia!
Online scrapbook & daily site reports available.
SPECIAL: 1998-99 Factbook -- Including international recordbook!
PROfile: Tour News
Cliff Swain, A Cut Above -- by Eric Muller
IRT/Tournament of Champions: Monchik def. Roberts
WIRT/Tournament of Champions: Van Hees def. Gudinas
Tour Update: IRT Player Awards, New Official Referees Named, Official Tour Products, Injury Report
Pro Tour Scoreboard & Calendar
DEPARTMENTS & COLUMNS
From the Editor, by Linda Mojer
Reader Forum
Changing Times, by Luke St. Onge
RB: Global -- Reports from the Netherlands, Canada, France & Germany.
RB: People & Places -- '98 Rumble, Armed Forces Championships, Excell.Net named official website provider.
ONLINE ONLY! USRA National Rankings ... through the Top-25! [As of July 15, 1998 -- including Junior Olympic points!]
USRA National Events Calendar [September through December]
Corporate Sponsors & Advertisers
INSTRUCTIONAL
Ektelon Performance Series: The Return of Serve -- by Andy Roberts
Wilson Game Plan: Serve & Return Drilling -- by Lynn Adams
Ashaway Mains & Crosses: Those Big, New Racquets with their Long, Long Strings -- by Steve Crandall
AmPRO ClubRACQUET: The Fitness Coaching Corner -- by Marcy Lynch
TOURNAMENT ENTRIES & INFO
Online "entries" are informational only ... you must request an official entry form from the national office to enter national events, or use abridged versions published in the print version of RACQUETBALL.
National Doubles [October 14-18]
U.S. Open [November 11-15]
World Juniors [December 18-22]
ON THE COVER
What's next for two-time world doubles champion Adam Karp? Can he defend both his current national doubles and singles crowns in the coming season? And what about the pro tour? He was focused in Bolivia, as he warmed up in front of photographer John Foust, and partner Bill Sell looked on.