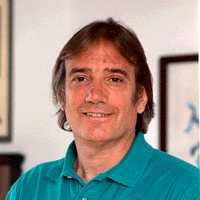 CHANGING TIMES
by Luke St. Onge
Racquetball lost a great friend, supporter and benefactor when Scott Winters recently left Ektelon to advance his career in marketing. Scott started out in racquetball as a teaching professional, then later headed the USRA Junior Council in the mid eighties, and hosted the 1985 Junior Nationals in Newport Beach, California. His marketing career moves landed him at several racquet manufacturers across the country before he was selected to take charge of the Ektelon division of Prince. Throughout his career, Scott has been a dedicated supporter of the sport and its growth worldwide — who managed many developmental projects by taking a personal and hands-on approach. We wish Scott every success and happiness in his new endeavor.
The IX World Championships are now history. The Bolivian Worlds were very special in every sense. The crowds at Opening Ceremonies; the Parade of Nations; the support of the Bolivian government through Mr. Juan Antonio Tehran of the Ministry of Sport; the LOC and their hundreds of volunteers, and the ever-present press corps coverage. All this, plus the competitive breakthroughs by the Bolivian, Venezuelan, and Mexican teams in the team competition; the visit by Bolivian President Gral. Hugo Banzer Suarez, who opened the Games; and the exhibition doubles match between IRF Executives and the Bolivian Vice President and the Sports Minister; the gorgeous venue at the Country Club Of Cochabamba with four new courts and an exceptional staff who worked 24 hours a day to be ready. And last, but certainly not least, President of the Bolivia Racquetball Federation, Jose Virreira who saw his dream and vision come to life — after working tirelessly for a full decade to make the '98 Worlds become a reality. To all, a well-deserved round of applause in gratitude!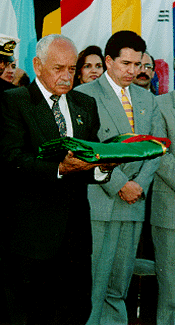 Bolivian President Gral. Hugo Banzer Suarez presents the Bolivian flag at opening ceremonies. To his left: Juan Antonio Tehran of the Bolivian sports ministry.