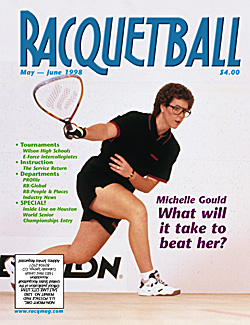 May - June 1998
Volume 9, Number 3
CONTENTS
PROfile: Tour News
IRT/Ohio: Ellis def. Robinson
IRT/Nebraska: Swain def. Ellis
IRT/New Jersey: Swain def. Monchik
IRT/New York: Roberts def. Ellis
WIRT/Virginia: Gould def. Fenton
ProRX: Shoe Review -- by Grant Smith
Coaches Corner -- by Marcy Lynch
Pro Tour Rankings, Scoreboard & Calendar
DEPARTMENTS & COLUMNS
From the Editor, by Linda Mojer
Reader Forum
Changing Times, by Luke St. Onge
Industry News: Titanium racquets from Head & Ektelon, plus updates from Penn, Rad & a report from the IHRSA Convention.
RB: Global: Olympic Update & World Championship Preview, plus notes from Canada, Germany & United Nations!
RB: People & Places: Joe Sobek passing, Athletes of the Year, Women's Senior/Master Championships & Pre-Series Regional Event Results.
JR! Team News: The low-down on 1998 Junior Olympic host city, Portland, Oregon.
NEW! EXPANDED USRA National Rankings: Online Only... the Top-25![As of March 15, 1998]
USRA National Events Calendar [May through December]
Corporate Sponsors & Advertisers
INSTRUCTIONAL
Ektelon Performance Series: Service Return -- by Mike Guidry
Head Rules: Developing a Game Plan -- by Fran Davis
Wilson Game Plan: Moving Up -- by Lynn Adams
Ashaway Mains & Crosses: Sponsorships -- by Steve Crandall
AmPRO ClubRacquet: 50 Ways to Keep your Courts Intact -- by Connie Martin
TOURNAMENT ENTRIES
Online "entries" are informational only ... you must request an official entry form from the national office to enter national events, or use abridged versions published in the print version of RACQUETBALL.
IRF World Senior Championships -- In Albuquerque, September 1-5 -- This is for reference only (big graphics), and is not printable. You'll need to call for an entry if you plan to enter.
ON THE COVER
Michelle Gould shows off an award-winning backhand, then tells us what it takes for her to remain on top – in both the amateur and professional ranks – year after year. Photo: Courtesy Ektelon.
Top of Document | Racquetball Magazine Homepage | USRA Homepage
© United States Racquetball Association -- All Rights Reserved