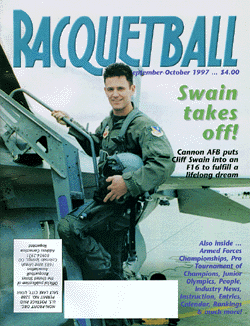 September - October 1997
Volume 8, Number 5
CONTENTS
FEATURES
Swain Flies High -- by Ssgt Gayle A. Ornong
Armed Forces Nationals -- by Jan Chayt
European Nationals -- by Joseph Villareal
Ektelon 24th USRA Junior Olympics -- by Kevin Vicroy
PROfile: Tour News
IRT & WIRT Tournament of Champions
IRT/Phoenix, Milpitas
WIRT/Arlington, Milpitas
Pro Tour News
1997-98 Tour Calendar
Pro Tour Rankings
DEPARTMENTS & COLUMNS
From the Editor -- by Linda Mojer
Reader Forum
Changing Times -- by Luke St. Onge
RB:Global
RB:People
Courtside Update
Ektelon Adult & Junior Regional Champions
Portable Court Donor List
USRA National Rankings
USRA National Events Calendar
Corporate Sponsors & Advertisers
INSTRUCTIONAL
Mastery of Racquetball: The Ceiling Shot -- featuring Tom Travers
Wilson Game Plan: Pssst ... Wanna Learn some Magic? -- by Lynn Adams
Ashaway Mains & Crosses: String your Own Racquet? -- by Steve Crandall
"Racquet Zone" Fitness -- by Kory Duarte
AmPRO Club Racquet: Junior Development -- by Fielding Snow
TOURNAMENT ENTRIES
Ektelon 30th U.S. National Doubles -- October 15-19
Promus U.S. OPEN -- November 12-16
Pro Kennex World Juniors -- December 19-23
Intercollegiate Regional Qualifiers: Procedural Changes!
Cliff poses on the side of the F-16 prior to takeoff. All Cannon AFB photography by: A1C Christopher Gish, 27th Communications Squadron Photo Lab.
Top of Document | Racquetball Magazine Homepage | USRA Homepage
© United States Racquetball Association -- All Rights Reserved