January - February 1997:Volume 8, Number 1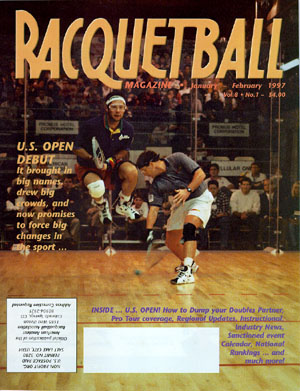 ---
CONTENTS
FEATURES
DEPARTMENTS
Profile Tour Highlights
IRT/Milwaukee
IRT/Chicago
IRT/Riverside
1997 Calendar
Tour Rankings
USRA National Events Calendar
Corporate Sponsors & Advertisers
INSTRUCTIONAL
Mastery of Racquetball: Down the Line featuring Tom Travers
AmPRO Tip: The Making of a Champion by Fran Davis & Diana McNab
AmPRO Club Racquet by Michelle Gould
Wilson Game Plan: On Your Toes! by Lynn Adams
Nutrition Tip: Dehydration by Kory B. Duarte
Ashaway Mains & Crosses: Pictorial by Steve Crandall
COLUMNS
Courtside Update
Industry Update
Changing Times by Luke St. Onge
RB: Global
RB: People
Pro-Kennex National High Schools
E-Force National/World Intercollegiates
1997 Intercollegiate Regional Qualifiers
1997 Regional Qualifiers
PHOTOS
Top: Tracy Hunter spectates at the University of Memphis. Photo: Kassi Herr.
Center: Dan Pischke prepares to serve on his way to an A division title. Photo: Barb Davis.
Bottom: Skill division champion Dr. Terry Truvillion poses with Drew Kachtik at the U.S. Open. Photo: Terry Truvillion.
ON THE COVER
Our very special thanks goes to photographer Mike Boatman, who worked overtime to get a great collection of action shots at the Open. The cover shot is his favorite -- Mike Guidry goes vertical against Andy Roberts in their quarterfinal.
To Subscribe to RACQUETBALL Magazine, call 719/635-5396 to order with MasterCard/VISA.
An online subscription form will be available at this site soon ...